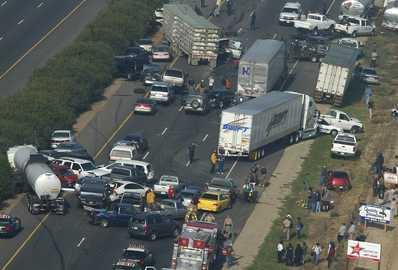 &nbsp
Template:Redirect A multi-vehicle collision (colloquially known as a pile-up) is a road traffic accident involving many vehicles. Generally occurring on high capacity and high speed routes such as freeways, they are one of the deadliest forms of traffic accidents. The most disastrous pile-ups have involved more than a hundred vehicles.
Pile-ups generally occur in low-visibility conditions, like rain or fog. In such conditions drivers on freeways often drive closer together than they should. Due to the high traffic speeds of the route, if one car develops a problem, those behind it cannot stop in time and may hit it. As cars are forced into other lanes and oncoming traffic, more vehicles become involved, considering that these roads often have high traffic volumes. Determining the cause of such accidents is difficult for investigators and it is often impossible to tell if negligence caused the crash.
Template:Copyedit They are particularly deadly as the solid mass of crumpled vehicles makes escape difficult. A fire in one part of the accident can quickly spread to spilled fuel and cover the entire crash area. Vehicles in a pile up are often hit multiple times, often at high speed, increasing risk of injury to the passenger. There have been cases wherein one car be hit more than once due to the bouncing effect. Moreover cars are often spun during an accident and are subsequently hit from the side, increasing risk of injury or death. Some vehicle occupants choose to get out of their vehicles during a pile up, making them vulnerable to oncoming vehicles. Pile-ups can also overburden local firefighting, ambulance, and police services making quick rescues more difficult. The large scale of these accidents can close important routes for several days. The destruction and intense heat of fires can also damage roadways, particularly by melting and burning the asphalt. Bridge structures can also be weakened by the heat. A pileup inside a tunnel is by far the worst, as there is little means for escape in older ones, and the unvented heat may even cause the concrete lining to come apart.
Major pileups
Edit
Main article: List of road accidents
In popular culture
Edit
Both of the Blues Brothers movies feature a massive pileup of police cars. In the film Final Destination 2, there is a pileup on Route 23 at the beginning of the film. Burnout 2: Point Of Impact, Burnout 3:Takedown and Burnout Revenge crash modes requires the player to create a massive pile-up as possible to earn medals. Pileups occur as a gag in the video game Grand Theft Auto: San Andreas. In the second campaign (Dark Carnival 1) of Left 4 Dead 2, survivors must pass over a massive pileup of cars.
References
Edit
de:Massenkarambolage
fr:Carambolage nl:Kettingbotsing pt:Engavetamento (trânsito)